Mimosas & Mantras
This girl power event celebrated women's empowerment, independence, confidence, and self love.
This was a free event and we took donations benefiting Breaking Free, a Minnesota-based non-profit and social justice/social change organization that helps women escape systems of prostitution and sexual exploitation through advocacy, direct services, housing, and education.
We had 3 inspirational women co-teaching a yoga class to live music.
The live music during the yoga class was played by The Razzberets.
The Razzberets are a jazz trio based in the Twin Cities. Though the group was formed out of a desire to play Prince tunes (they are named after "Raspberry Beret"), the trio now plays a variety of music, including jazz, classical, and rock n' roll. The players are Nick Mordal on guitar, Julia Floberg on cello and vocals, and Paul Cherba on bass and vocals.
Following class, we heard from a panel of 4 women in the community doing big things, while sipping some post-yoga mimosas.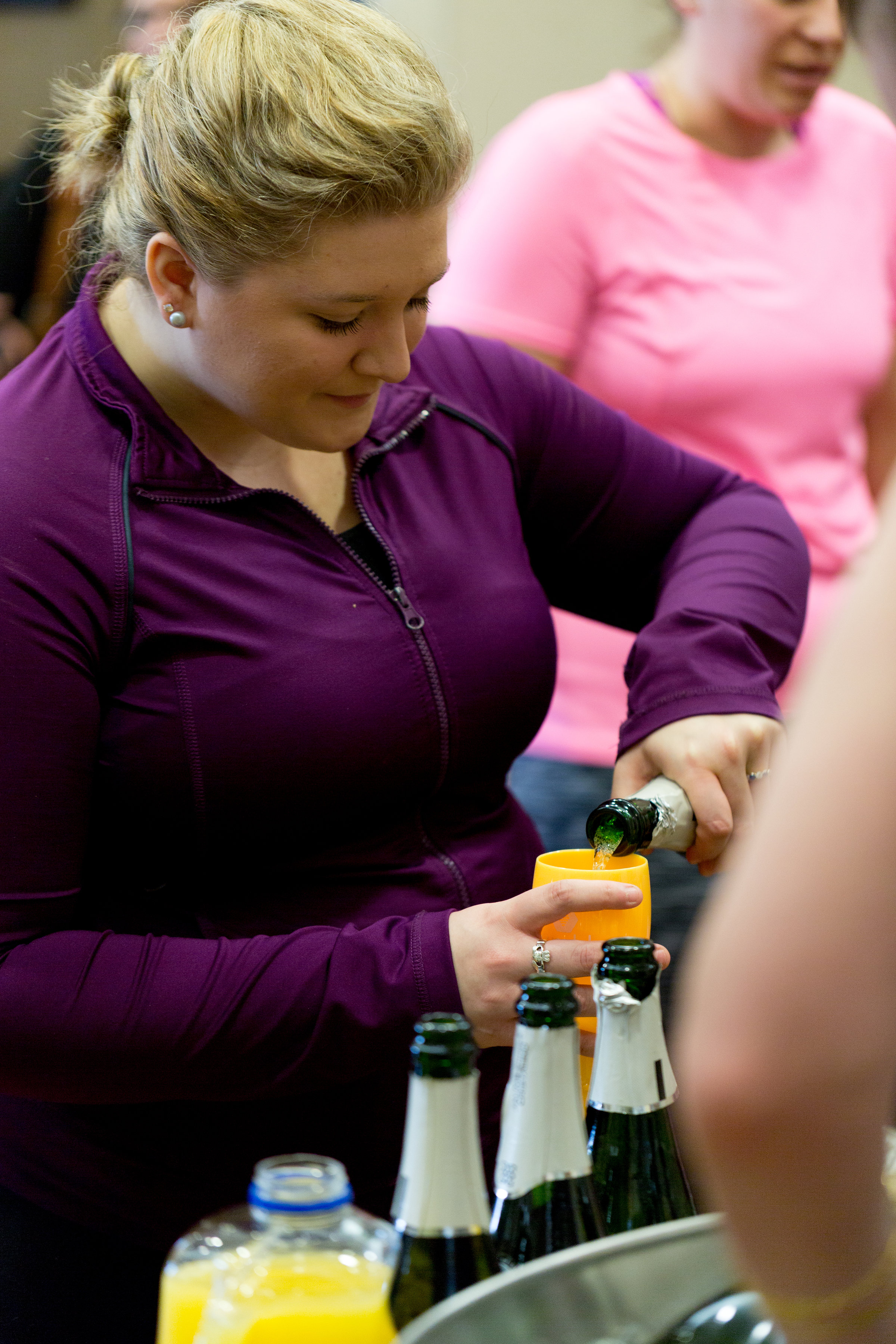 Our four lovely panelists, Kylee Leonetti, Jes Rosenburg, Linda Rae Holcomb, and Danielle Jokinen talked all things girl power and self love and care, while working and building a business.
Guests stuck around afterwards for free samples and pop up shopping.
City Girl Coffee Company is a sustainable and responsible coffee company who is working to bring awareness and equality to the women of the coffee industry. They source their coffee from small, women owned or managed farms and co-operatives, and give a portion of every sale back to the organizations that support the success of women in their country of origin.
We like to say Gluek Beer was born in Germany and raised in Minneapolis. The first Gluek brewery was established on the banks of the Mississippi in 1857, one year before Minnesota was officially declared a state. Now, Gluek beer is back and here to stay. As a sessionable beer, Gluek is meant to be enjoyed with the people and conversations that make life worth savoring.
Crisp & Green
We believe nourishing your healthy lifestyle goes beyond the kitchen. We are devoted to delivering an exceptionally crisp experience to our guests, not just with our chef-crafted & scratch-made menu, but also through our high standard of service, our belief in being 100% authentic, & our passionate commitment to our community.
At Pressed Hot Yoga and juice, we created a vibrant environment for our yoga students and juice customers to connect as a community and improve their health. Helping you rebuild balance and learn how to maintain a healthy lifestyle, we're also committed to building friendships, community and long-lasting alliances.
Our natural pops are made with wholesome ingredients like fresh fruit, real cream, and cane sugar. We don't believe in adding anything artificial, because a short and simple list of ingredients means a healthier, more delicious pop you can feel good about eating.
We are an authentic, gutsy, and active company driven to create delicious, nutrient-dense foods that nourish our whole selves. We believe in good food and good health, and we believe you shouldn't have to choose one over the other. Our passion is creating curiosity in living through purveying truly healthy and delicious foods!
MadeGood® is our family business and passion. The inspiration for MadeGood® came from our life long relationship with healthy foods. We wanted to create products that provide exceptional nutrition and great taste to our customers and their families. And we wanted to make these products in a way that respects the environment and the people in our community.
Founded by Chicago native and Minneapolis resident Jordyn, MEND Jewelry was created to transform powerful, precious gemstones into unique, timeless pieces that both ground and inspire. Jordyn designs each treasure with one eye looking at the current trends and the other eye searching for timeless, healing symbols. Each MEND collection is limited, with pieces changing frequently to stay unique and powerful.
At Ruhk, we understand that eating healthy, nutritious foods can be tough at times. And we want to make it easy for you. Our powder can be added to your smoothies on-the-go, mixed in with pasta sauces and soups, sprinkled over a salad, or steeped in tea. Not only do we want you to be your healthy, happiest self but we want to give back to our farmers who help us bring this amazing product to you.
Designer Erika Dahlen respirits antique treasures into bold boho pieces using design elements from the jewelry boxes of women who went before us. Her mission is to honor the unique history of each piece with a one-of-a-kind reinvention that is timeless. More than an accessory, her jewelry pays homage to the women of our past and celebrates the joy and optimism of a future that's female.